Welcome
Dear UPMC Hillman Cancer Center Members:
We are pleased to invite you to attend the 31st Annual UPMC Hillman Cancer Center Scientific Retreat on Wednesday and Thursday, June 19 and 20, 2019. This year's event will be held at Soldiers & Sailors Memorial Hall & Museum on Fifth Ave. in Oakland.
This year's Retreat will focus on the topics of "Data Sharing and Data Analysis," "Addressing Catchment Area (Western Pennsylvania) Cancer Risks" and finally, "Cancer Immunology Intersections." These three topics are of importance and relevance to all who are interested in cancer. We are also pleased to bring back the always popular Lightning Round.
This year's Ronald B. Herberman Lectureship Keynote Address will be given by Arthur S. Levine, MD, Senior Vice Chancellor for the Health Sciences and John and Gertrude Petersen Dean of the School of Medicine, who will be stepping down after two decades of distinguished leadership. As an oncologist and cancer researcher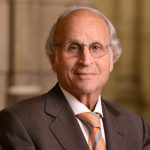 particularly focused on DNA damage and repair mechanisms during his career, and a major supporter of UPMC Hillman Cancer Center, Dr. Levine is a highly appropriate Keynote guest.
We very much look forward to your attendance and participation in this wonderful opportunity for all members of Hillman to learn about and contribute to our scientific environment through formal and informal interactions. We especially encourage you to bring your students and fellows, as our trainees are so vital to our future. All information and forms regarding the retreat can be found on this web site. For questions, please contact Lisa George, Retreat Coordinator, at georgel@upmc.edu.
Regards,
Bob and Lin
Robert L. Ferris, MD, PhD
Director, UPMC Hillman Cancer Center
Lin Zhang, PhD
Professor of Pharmacology & Chemical Biology
UPMC Hillman Cancer Center Retreat Chair