Jennifer R. Grandis, MD, FACS
University of California, San Francisco
Principal Investigator, SPORE
Co-Leader, Project 2; Co-Director, Core A, CDP, and DRP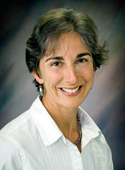 Dr. Grandis is Associate Vice Chancellor of Clinical and Translational Research, and Professor of Otolaryngology-Head and Neck Surgery, at the University of California at San Francisco.
Dr. Grandis' basic science laboratory is dedicated to the study of epidermal growth factor receptor (EGFR) signaling pathways in squamous cell carcinoma of the head and neck (SCCHN). Her research interests include G-protein-coupled receptor transactivation of EGFR, therapeutic targeting of EGFR and STATs in SCCHN patients, and determining the mechanism(s) of resistance to strategies that block this growth factor receptor.
Dr. Grandis completed medical school, residencies in otolaryngology and surgery, and a fellowship in infectious disease at the University of Pittsburgh School of Medicine. During this time, she received many awards and distinctions, including the Kenneth H. Hinderer Award in Otolaryngology and the Leo H. Criep Award in Medicine. Dr. Grandis has contributed numerous articles and abstracts to the scientific literature and holds patents for novel concepts pertaining to cancer treatments and diagnostics. She maintains membership in a number of professional societies, including the American Society for Clinical Investigation, American Academy of Otolaryngology-Head and Neck Surgery, American Medical Association, American Association for Cancer Research, and Women in Cancer Research. She is a fellow of the American College of Surgeons and the American Laryngological, Rhinological, and Otological (Triologic) Society. She received an American Cancer Society Clinical Research Professorship in 2008.