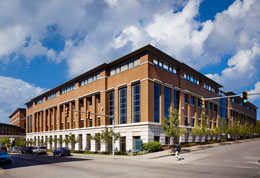 Our History
Founded in 1985, the UPMC Hillman Cancer Center (formerly the University of Pittsburgh Cancer Institute) is the only National Cancer Institute (NCI)-designated Comprehensive Cancer Center in western Pennsylvania. With over 300 research and clinical faculty members specializing in disciplines ranging from cancer prevention and early detection to novel therapeutic discovery, survivorship, and end of life care, UPMC Hillman Cancer Center maintains a broad strategic vision and comprehensive approach to understanding and defeating cancer. UPMC Hillman Cancer Center investigators are leaders in molecular and medical oncology, spearheading innovative research studies to:
Advance our understanding of the biological basis of cancer development and progression
Identify new and relevant biomarkers for improved cancer detection and diagnosis
Develop novel therapeutics for successful and comprehensive cancer treatment
Establish and implement effective measures for cancer prevention
While most faculty maintain academic appointments at the University of Pittsburgh, some Cancer Center members are affiliated with neighboring institutions, including Carnegie Mellon University and UPMC Hospitals.
At UPMC Hillman Cancer Center, basic researchers collaborate with clinician-scientists to rapidly advance the most promising laboratory studies into novel clinical trials, providing patients with early access to new and innovative treatments. Currently, patients have access to hundreds of clinical trials at UPMC Hillman Cancer Center.
Sustained by the ongoing recruitment of internationally renowned scientists and planned expansion of laboratory and clinical space, UPMC Hillman Cancer Center continues to grow and evolve, making vast strides in its quest to significantly reduce the burden of cancer.