The goal of the Biobehavioral Cancer Control Program (BCCP) is to reduce the burden of cancer across all phases of the cancer control continuum, from cancer risk through cancer survivorship, via research centered on behavioral factors and the patient/person experience.
The specific aims of BCCP are to:
Investigate behavioral factors known to contribute to cancer risk reduction, with a particular focus on biobehavioral mechanisms underlying initiation, maintenance, and cessation of tobacco use
Develop and test innovative biobehavioral interventions to reduce cancer risk behaviors, with a particular emphasis on tobacco use and cancer prevention behaviors
Characterize disease and treatment-related symptoms in cancer survivors including the biobehavioral mechanisms underlying those symptoms
Develop and test personalized management strategies to prevent or reduce cancer and cancer therapy-related symptoms and improve adherence to therapy, quality of life, and functional ability of cancer survivors.
Consistent with these aims and grounded in the behavioral sciences, program investigators conduct preclinical, translational, and clinical research studies (including randomized interventional trials) that largely fall within one (or both) of the two central themes below.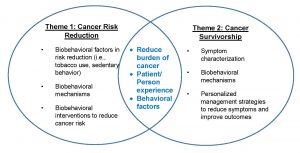 Research Themes