They see around 12,000 patients combined a month, many underserved. It's challenging but rewarding work for the folks at Pittsburgh's UPMC Hillman Cancer Center and Birmingham Free Clinic. Dr. Linda Robertson (Lyn), Patricia Andres-Sanmartin (Patty), and Lilcelia Williams (CeCe) are part of a network connecting underserved patients with cancer screenings, clinical trials, and other programs to support their health journeys.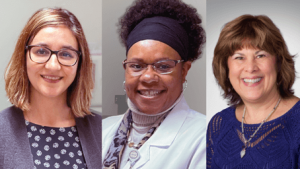 Patricia Andres-Sanmartin, Lilcelia Williams, and Dr. Linda Robertson connect people in underserved communities in Pittsburgh, PA, with screening programs and clinical trials.
Credit: National Cancer Institute

For Patty, a Spanish interpreter and patient navigator at Birmingham, language access is especially crucial. "What good is it to have the most wonderful doctor giving the best advice if you don't understand it?" she said, adding that patients who are elderly, uninsured, immigrants, or non-English speakers can get overwhelmed by the health care system. She's driven to help because "if we have screening programs and patients who need them but don't connect the two, they go to waste."
While clinical trials can be a viable treatment option, patients of color may still feel apprehensive. As a research specialist, CeCe emphasizes the protections in place for trial participants and discusses how "participation is important now and can lead to better outcomes for our children and grandchildren." Regardless, she said, "the patient is the expert of their body. They are in control. We're here to guide them but also support them with whatever they decide."
Lyn, an associate director at Hillman, echoes this message of support and education. "People think being in a clinical trial means getting a placebo or going off treatment," but that's not the case, she said. "We're constantly breaking down what a trial is, what types there are, and why we call them the gold standard of care" through community sessions or even games. "Many communities know us and trust us, but it takes time to achieve that."
When asked what motivates them, each of these women lit up and said, "the patients," who they also help with necessities like securing housing or food. Witnessing and addressing barriers to care can be frustrating, but this team remains dedicated to being there for whoever needs them.
See the full story on the NCI website here.