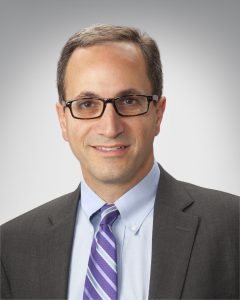 About Dr. Ferris
Robert L. Ferris, MD, PhD, is the Director of the UPMC Hillman Cancer Center, the region's only National Cancer Institute-designated comprehensive cancer center. He serves as the Associate Vice Chancellor for Cancer Research, and Hillman Professor of Oncology and Professor of Otolaryngology, of Immunology, and of Radiation Oncology at the University of Pittsburgh School of Medicine. He also leads a National Cancer Institute-funded immunotherapy laboratory.
Dr. Ferris is co-chair of the National Cancer Institute Head and Neck Steering committee to facilitate prospective clinical trials. He is a principal investigator in multiple phase I, II, and III immunotherapeutic trials and has led several prospective randomized trials—including those that led to the approval of immunotherapy for head and neck cancer—and testing treatment deintensification for good prognosis HPV+ head and neck cancer after transoral surgery. He is the principal investigator of the Hillman Specialized Programs of Research Excellence in head and neck cancer
Dr. Ferris's translational research laboratory focuses on mechanisms of anti-tumor immunity in the tumor microenvironment, as well as immune escape mechanisms developed by tumor cells to evade elimination by NK and T cells. His group pioneered studies demonstrating innate and adaptive immune responses induced by EGFR-specific mAb, cetuximab in cancer patients. His laboratory also investigates the role of immunosuppressive molecules, such as immune checkpoint receptors, including PD-1, CTLA-4, TIM-3, and LAG-3.
Dr. Ferris has published more than 380 peer-reviewed manuscripts currently serves on the editorial boards of the Journal of the National Cancer Institute, Journal of Clinical Oncology, Clinical Cancer Research, and Cancer Immunology Research, and as section editor for the Journal for ImmunoTherapy of Cancer, and Cancer. He is editor-in-chief of Oral Oncology. He is a member of the American Society for Clinical Investigation and the recipient of numerous research and teaching awards.
Education & Training
B.A. Chemistry, University of North Carolina at Chapel Hill (with honors and distinction)
MD, PhD, Johns Hopkins University School of Medicine
Residency in Otolaryngology, sub-specialty training in head and neck oncologic surgery, Johns Hopkins Hospital
Contact

UPMC Hillman Cancer Center Office of the Director
5150 Centre Avenue, Suite 500
Pittsburgh, PA 15232
P: 412-623-3205
F: 412-623-3210