Women's Faculty/Trainee Monthly Luncheons
The Women's Task Force sponsors a women faculty/trainee lunch* on the first Friday of each month to informally discuss issues pertaining to female scientists. Topics covered include: avoiding gender bias in letter writing, importance of women supporting other women, gender bias in grant solicitations and recommendations for changes for internal submissions, sexual harassment and resources at Pitt, imposter syndrome, negotiating, work/life balance, conflicts with trainee and mentor relationships, LGBTQIA+, 1-3-5 time management approach, confidence and active voice in grant writing, and preparing for maternity and a career in science: how to be a superhero.
*Due to COVID-19, lunches are currently being held virtually.
Biannual Workshops
Implicit Bias Training
Bystander Intervention
UPMC Hillman Cancer Center Annual Scientific Retreat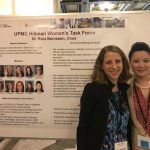 Each year, the scientific cancer research community at UPMC Hillman Cancer Center ('Hillman') comes together to exchange new research findings and ideas. The annual Hillman Scientific Retreat is a tradition that has endured since shortly after Hillman was founded. This gathering of laboratory scientists, research clinicians, students, fellows, and others working towards understanding the biology of cancer and developing improved treatments for patients, serves as a great opportunity for collaborative thinking and formation of strategic research partnerships to advance Hillman's mission against cancer.