Agenda –
Updated 6/17/19
Program Information
The Annual UPMC Hillman Cancer Center Scientific Retreat will be held Wednesday and Thursday, June 19-20, 2019 at Soldiers & Sailors Memorial Hall & Museum on Fifth Ave. in Oakland.
The retreat will focus on the topics of "Data Sharing and Data Analysis," "Addressing Catchment Area (Western Pennsylvania) Cancer Risks" and finally, "Cancer Immunology Intersections." These three topics are of importance and relevance to all who are interested in cancer. We are also pleased to bring back the always popular Lightning Round.
This year's Ronald B. Herberman Lectureship Keynote Address will be given by Arthur S. Levine, MD, Senior Vice Chancellor for the Health Sciences and John and Gertrude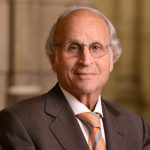 Petersen Dean of the School of Medicine, who will be stepping down after two decades of distinguished leadership. As an oncologist and cancer researcher particularly focused on DNA damage and repair mechanisms during his career, and a major supporter of UPMC Hillman Cancer Center, Dr. Levine is a highly appropriate Keynote guest.
All talks are of importance and relevance to all who are interested in cancer, and will be of direct interest to clinical oncologists, hematology/oncology fellows and other trainees in clinical fellowship programs, as well as basic cancer, population science, and biobehavioral researchers and trainees.
Food Service
Meals include breakfast, lunch and dinner on Wednesday; and breakfast and lunch on Thursday. Meals will be served in the Grand Ballroom. Breaks will be provided on all days, during which there will be beverages and light snacks available.
Directions & Parking
Registration and Abstract Submission
Online Registration
Online Abstract Submission