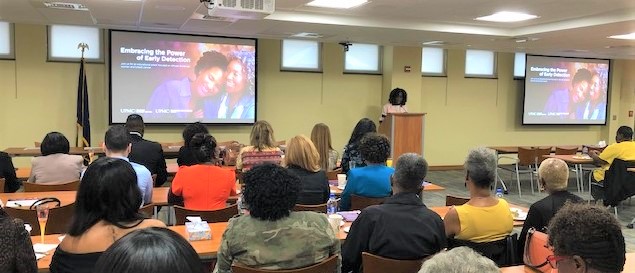 UPMC is one of just 21 hospital systems in the country and the only system in Pennsylvania selected to work with the American Cancer Society (ACS) on a community program to promote health equity and equal access to cancer screenings and education with a specific focus on breast cancer.
It has been well-documented that African Americans have the highest death rate and shortest survival of any racial or ethnic group in the U.S. for most cancers. In addition, African American women have a higher incidence of breast cancer at a younger age, are about 40% more likely to die from breast cancer and are more likely to be diagnosed with advanced-stage breast cancer than white women.
UPMC was selected for the ACS Hospital Systems Capacity Building Initiative as a Community of Practice (COP) partner based on the system's ability to undertake this large project, with a core team already in place and significant community outreach well underway.
For several years, UPMC has conducted extensive research into health disparities, increased community outreach programs and identified barriers to access. These actions have already led to improvements in health inequities and racial disparities in cancer care. This UPMC team is led by Dr. Steven Evans, a surgical oncologist at UPMC Hillman Cancer Center, who expanded his practice to the McKeesport community to improve access in that region.
"Our partnership with ACS offers a unique opportunity to collaborate with other large cancer centers accepted into this program to not only provide access to quality care for patients diagnosed with breast cancer, but to identify best practice models of care that will ultimately eliminate the disparities in breast cancer outcomes," said Evans.
From now through 2023, ACS and UPMC will work to deliver evidence-based cancer prevention and screening interventions, with a specific focus on breast health equity. The project will begin in McKeesport, but it will also assist hospital systems across the country with facilitating community partnerships that will address cancer prevention and screening to improve population health outcomes.
"The critical work we've undertaken to increase screening, eradicate disparities and eliminate breast cancer couldn't have received a more meaningful validation than being designated as a Community of Practice by the ACS," said LaJuana Fuller, director of women's imaging for UPMC Magee-Womens Hospital.
"UPMC has been a valued partner in our fight against cancer for many years, and we are thrilled to be taking this partnership to the next level through our Hospital Systems Capacity Building Initiative," noted Kacie Jankoski, ACS cancer control strategic partnerships manager. "Together, we will explore the Communities of Practice model for improving cancer prevention and screening and build upon the great work that UPMC is already doing with breast health equity, as we strive to create a world without cancer."
Source: "UPMC Partners with American Cancer Society to Address Breast Cancer Disparities" by Cyndy Patton